.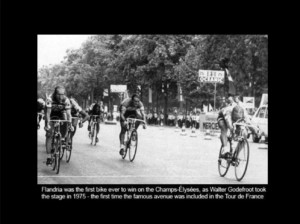 Flandria is without doubt the most iconic and most successful cycling team of all time. Its status is legendary within cycling lore, and it is impossible to discuss the history of cycle racing without some mention of the Flandria team, its instantly recognisable red Flandria bikes, and, of course, the great champions who rode them. Two Grand Tours. Two World Championships. The best sprinter of all time.
Seventy Classics. Five Tours of Flanders. Four Paris-Roubaix.
Wind, Rain, Snow, Mud, Cobbles.
The toughest riders ever. The toughest bikes ever.